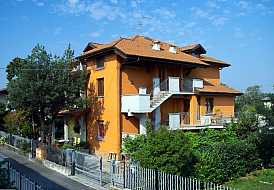 Oxio Bed and Breakfast offers accommodation with breakfast and is conveniently situated just outside Bergamo, an interesting location for tourists, going for the fascinating Cittą alta (Upper town), and for people on a business trip in a rich region with plenty of tourist, industrial and commercial facilities.
The bed and breakfast is 12 km from Milan-Orio al Serio international airport (BGY), which is served by many low-cost airlines; there are many flights to the main European capitals (London, Berlin, Rome, Bruxelles, Paris, Stockholm).
At Osio Sopra, a quiet village near Bergamo, Bed and Breakfast is easily reachable by car from the A4 motorway (Dalmine and Capriate S.Gervasio exits); the bed and breakfast is located in a good position, 40 km from both Milan and Brescia, two of the most interesting cities in Lombardy and 33 km from Monza (Formula 1 Grand Prix of Italy: 10-12 September 2010).
For these reasons many guests choose Oxio Bed and Breakfast Bergamo as a stop over on a trip to Central and Southern Italy or to Northern Europe.
Oxio Bed and Breakfast is the perfect place to relax at the end of a busy day. Comfortable and lovely accommodation with simple and pleasant rooms. We offer a quiet atmosphere and hearty breakfast to set you up for the day.